Invisalign – Minot, ND
Discreetly Achieve Perfectly Straight Teeth
Crooked, crowded, and gapped teeth can make it difficult to smile confidently and chew properly. Years prior, this meant 18+ months of wearing metal brackets and wires – but no more! Thanks to Invisalign in Minot, you can discreetly achieve perfectly straight teeth with clear, virtually undetectable aligners. If you are interested in this smile transforming solution, don't hesitate to schedule an initial consultation!
Why Choose Souris Valley Dental Group For Invisalign?
Friendly Team That Treats You Like Family
See Your Smile First with Digital Imaging
Convenient Office Hours
How Invisalign Works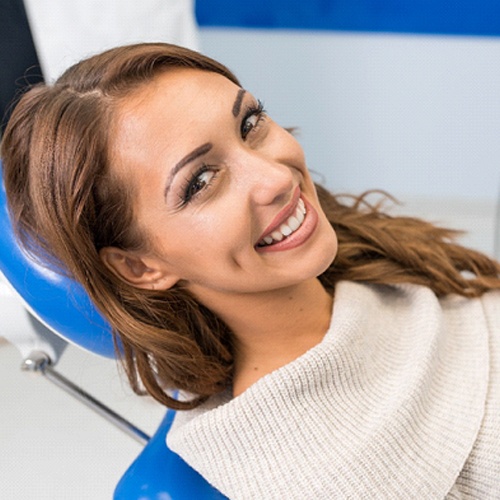 Invisalign is widely known for its incognito aligners, but few patients are familiar with how they work. Simply put, each set of trays is custom-made to fit snugly over your teeth and exert just enough pressure to gradually guide them into their new position. Periodically throughout your treatment, you will visit our office so we can ensure your trays are tracking properly, address any complications as needed, and provide you with your next set of aligners. Once you've worked through every phase of your treatment, which typically takes anywhere between 12 and 18 months, you will be given a retainer to preserve your beautiful results.
Benefits of Invisalign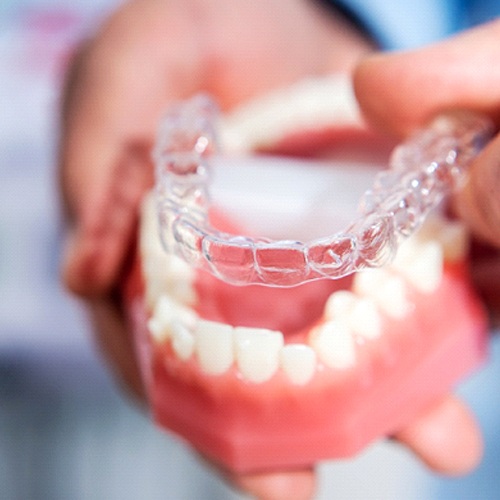 Not having to endure years of "metal mouth" is one of the most common reasons patients prefer to use Invisalign to straighten their smile. However, that isn't the only benefit that comes with opting for this orthodontic treatment. A few of the additional perks include:
Shorter treatment time than traditional braces.
The trays are designed with comfort in mind, resulting in less irritation and discomfort.
No dietary restrictions.
Hassle-free oral care.
Fewer appointments.
Indications for Invisalign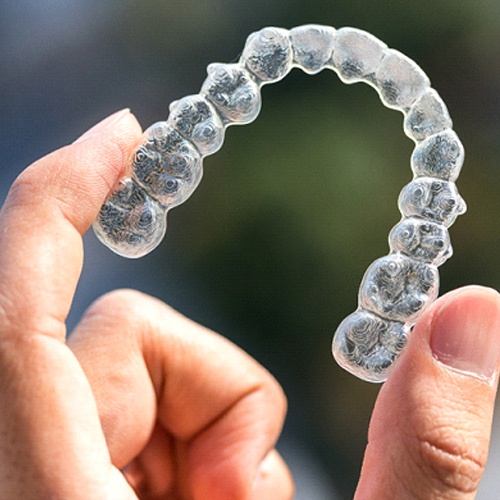 In the last two decades, Invisalign has helped millions of patients achieve their smile goals. And while their clear trays are a good fit for nearly everyone, there are a few things to consider to determine if you are a good candidate. To start, your oral health needs to be in good condition, meaning it is free from untreated dental issues, like gum disease and decay. Additionally, since the aligners are removable, there is a certain level of responsibility that is required for successful treatment. Therefore, Invisalign is only recommended for adults and older, more mature teenagers.
Understanding the Cost of Invisalign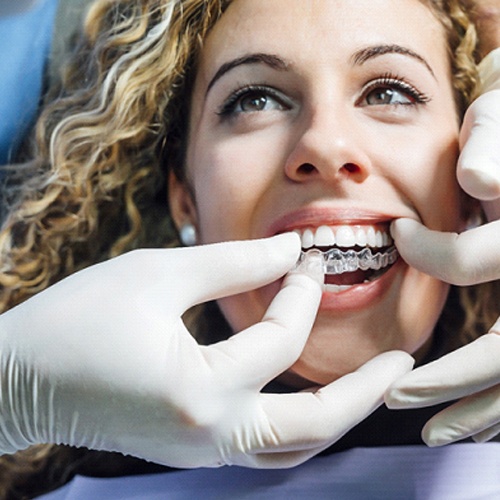 Since Invisalign isn't a one-size-fits-all treatment, there is no all-encompassing answer to what you can expect to pay. There are, however, a few factors that can influence the total cost:
Any preliminary dental work that needs to be completed beforehand, like periodontal therapy.
The severity of your misalignment.
The number of aligners needed to achieve your smile goals.
How long your treatment is expected to last.
Fortunately, our cosmetic dentist in Minot will go over each of these components of your care at your initial consultation. That way, we can help you determine whether Invisalign is the smile-transforming solution you've been looking for! Get in touch with our team to schedule your appointment.
Invisalign FAQs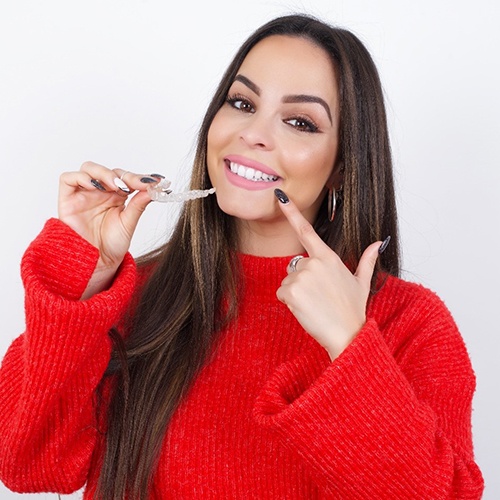 It's natural to have questions about Invisalign, especially if you've only recently begun seriously looking into this teeth-straightening solution. Fortunately, our team at Souris Valley Dental Group is here to help you with any questions or concerns that arise. While we always welcome calls and in-person visits, we also know that some patients value being able to learn more online too. So, we've responded to some of the most frequently asked questions about Invisalign in Minot right here!
What Are Invisalign Attachments?
Invisalign attachments are little pieces of tooth-colored resin that are bonded directly to your teeth. They may be small, but they play an essential role in helping your teeth shift by giving your aligners something to hold on to. As a result, even patients with more moderate or severe malocclusions are candidates for clear braces! Note: buttons and attachments are different. While attachments are designed to give your trays some grip, buttons are used to anchor the rubber bands in place.
How Do I Clean My Invisalign?
Cleaning your aligners consistently is important. Otherwise, the once clear trays will begin to take on a yellow, discolored look. Fortunately, keeping them stain-free is relatively simple. First, rinse them with clean, cool water each time you take them out and before you put them back in. Second, use a soft-bristled toothbrush to gently clean your aligners after each meal. Third, soak them in the cleaning crystals provided by Invisalign weekly to remove food debris and plaque. Since you have to wear your trays for 22 hours a day, put them in the cleaning solution during one of your meals.
How Long Does Invisalign Take?
One perk of Invisalign is that it has shorter treatment times on average. While traditional braces can take 24+ months, the clear aligners can straighten your teeth in as little as 6 (depending on the severity of your misalignment, of course). Don't worry – our cosmetic dentist in Minot can provide you with a specific estimate during your initial consultation. To schedule yours, contact our team!
What Happens After Invisalign?
The clear aligners can certainly guide your teeth into their properly aligned positions. However, it's ultimately up to you to keep them there. That means wearing your retainer consistently. Luckily, this small orthodontic appliance is just as discreet, meaning you won't have to worry about any metal wires hindering the appearance of your smile. Immediately following treatment, you may be instructed to wear them for 22 hours a day, but it won't be long until you only have to wear them at night.
Can You Eat with Invisalign?
Invisalign doesn't come with too many rules, but there are a few important ones, like you MUST take your aligners out before eating. Keeping them in can warp their shape and leave behind stubborn stains. The good news is that they are entirely removable, allowing you to eat and drink whatever you'd like throughout your treatment. Just do your best to keep sugary items to a minimum since they can increase your chances of developing a cavity.