Dental Implants – Minot, ND
Bring Back Your Smile to the Fullest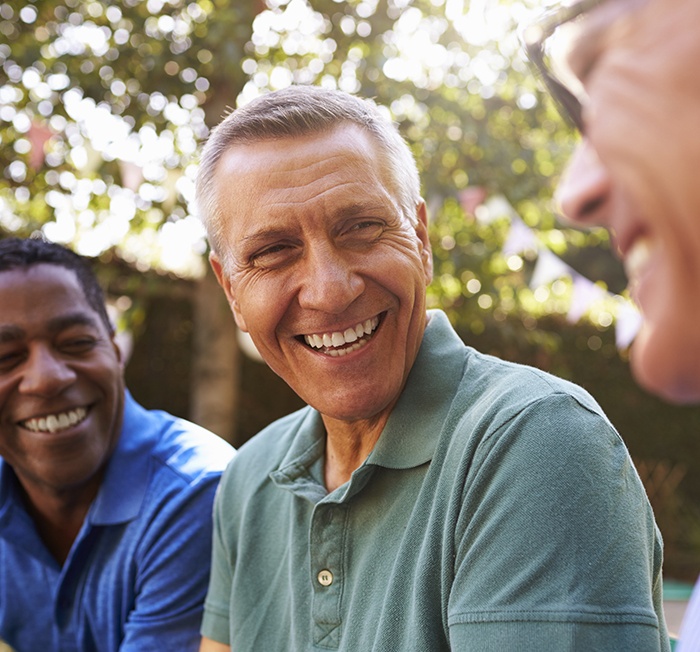 Unlike poorly fitting dentures, dental implants recreate your natural teeth in nearly every way. They're the only tooth replacement that includes the roots of the teeth, allowing them to look and feel exactly like your old pearly whites. Dental implants can also last for years, decades, or even a lifetime to come! Our team at Souris Valley Dental Group is able to provide the entire procedure in-house while delivering truly outstanding care at each step. If you're ready to get a tooth replacement that will stand the test of time, call our dental office today to schedule your consultation for dental implants in Minot, ND!
Why Choose Souris Valley Dental Group for Dental Implants?
Entire Implant Procedure Completed In-House
CT/Cone Beam Scanner for Comprehensive Treatment Planning
Comfortable, Precise Digital Impression Technology
What Are Dental Implants?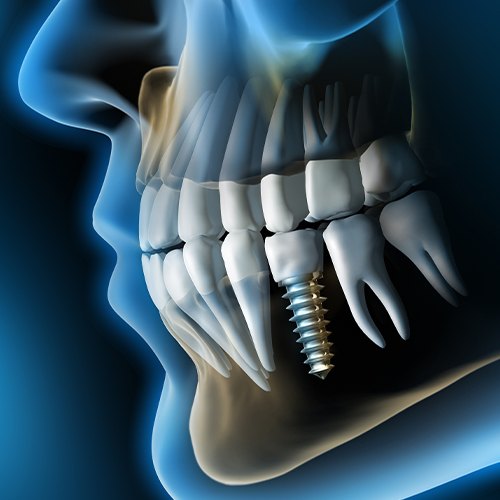 Dental implants replicate the roots of missing teeth via small titanium posts that are placed in the jawbone during oral surgery. Titanium's biocompatible properties encourage the jawbone to grow around the implant posts in a process called osseointegration. This creates a bond just as powerful as that of your natural teeth. At that point, the implant can support a personalized dental crown, bridge, or denture to bring back your smile to the fullest.
The 4 Step Dental Implant Process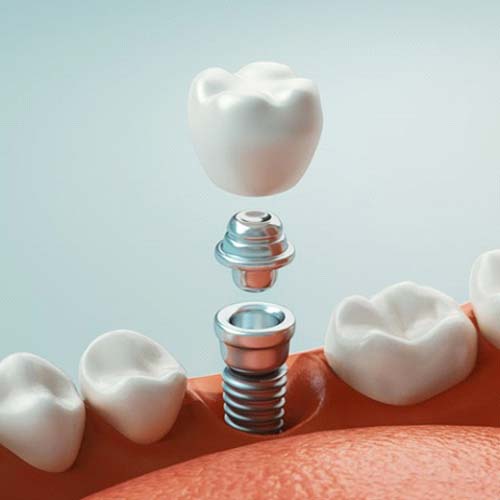 The process of getting dental implants in Minot is quite lengthy and requires many steps. While a few months may seem like a long time, many patients find the incredible benefits to be well worth the time and effort. At Souris Valley Dental Group, you don't have to worry about visiting multiple outside specialists for your treatment. We can complete the entire process from start to finish in one convenient location! Even though every patient's treatment plan will look slightly different, there are four main steps that are the same for everyone. To learn more, continue reading or give our office a call today!
Initial Dental Implant Consultation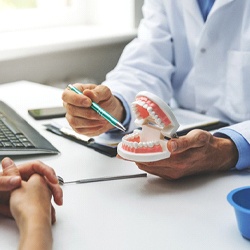 During your initial appointment, our team will capture digital X-rays and cone beam scans to determine whether or not you're a good candidate for dental implants. We'll evaluate your oral health, inquire about your goals, and review your medical history to decide on the next best steps. Some patients may need preliminary procedures like periodontal therapy, tooth extractions, and bone grafting before getting dental implants. Once that's taken care of, we'll walk you through the next steps of the process.
Dental Implant Surgery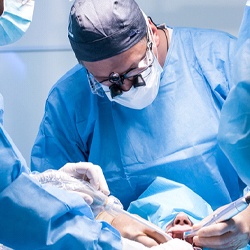 At Souris Valley Dental Group, we will effectively and comfortably place your implants into your mouth. Before the procedure begins, we'll numb you thoroughly to ensure you feel no pain. We'll then make small incisions in the gum tissue to access the jawbone. After inserting the implants, we'll suture your gums shut and place a protective cap on the posts to shield them while you heal.
Dental Implant Osseointegration & Abutment Placement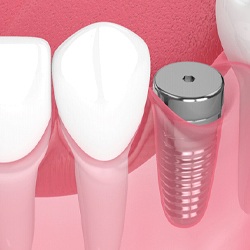 On average, it takes about three to six months for the implants to successfully fuse with the surrounding bone tissue via a natural process called osseointegration. Once that's complete, you'll return to the office for a second minor surgery to receive your abutments. They're the small metal connector pieces that are placed on top of the implant posts, allowing our team to attach your final restoration into place.
Delivery of Dental Implant Restorations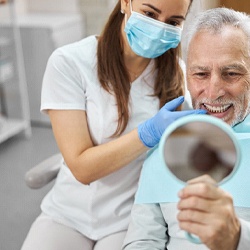 While you recover, a trusted dental laboratory will make your new restoration (i.e., crown, bridge, denture) based on the impressions they received of your natural smile. They'll use high-quality materials to create durable, natural-looking replacement teeth. Once your new pearly whites have been attached to your abutments, you'll be ready to put your beautiful pearly whites to use that same day!
Benefits of Dental Implants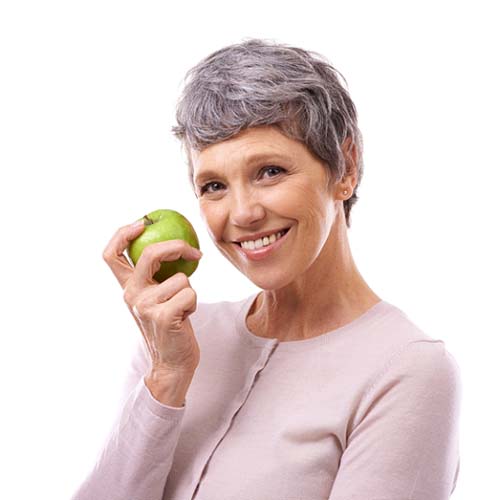 Did you know that over half a million dental implants are placed every year? They're quickly becoming one of the most popular tooth loss solutions, and it's easy to see why. Because of their unique placement inside the jawbone, they provide a wide range of benefits you simply can't get with more traditional options like dentures and dental bridges. If you'd like to learn more about how implants can improve your overall quality of life, continue reading or give our office a call today!
Day-to-Day Benefits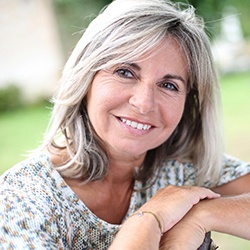 Many denture-wearers feel like their prosthetic limits their ability to enjoy their daily lives to the fullest. By investing in dental implants, you can expect to reap several day-to-day benefits like:
Regained Ability to Eat Most Foods – Since dental implants replace the entire structure of missing teeth, they can withstand the chewing of virtually any food.
Easier Maintenance – You don't have to worry about incorporating complex steps into your routine or buying special products to care for implants. It's as easy as caring for natural teeth!
Boost of Confidence – Because dental implants remain firmly in place, they won't move while in use. They're secure enough to allow you to speak, smile, and eat with confidence!
Health Benefits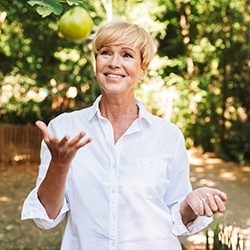 Aside from improving your daily quality of life, dental implants can offer some incredible health advantages, such as:
Jawbone Preservation - Dental implants are the only option that stimulates your jawbone to prevent it from deteriorating after tooth loss.
Protection for Natural Teeth – It's common for teeth to shift after tooth loss. Luckily, dental implants serve as a placeholder to ensure every member of your smile stays exactly where it belongs.
Improved Overall Health – Studies have revealed a correlation between tooth loss and an increased risk of multiple diseases. Because implants are so similar to natural teeth, it's safe to assume that they can help lower such risks.
Long-Term Benefits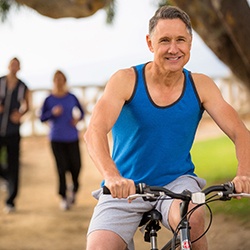 Getting dental implants will benefit you in the short term. However, you can also expect to enjoy several long-term benefits, such as:
Long-Lasting Results - Dental implants are designed to last for an entire lifetime with proper care.
High Success Rate – Believe it or not, implants have an impressive success rate of about 95% even 10 years after being placed.
Youthful Appearance – Dental implants look, feel, and function just like your natural teeth, giving you the most lifelike tooth replacement.
Who Dental Implants Can Help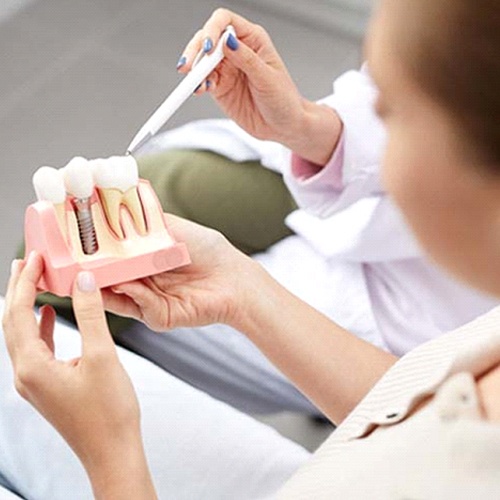 No matter the number of teeth you need to replace, dental implants can very likely get the job done. They're versatile enough that practically any healthy adult who wants them can get them, though you may need to complete one or more additional treatments first. When you visit with our dentists for a dental implant consultation, we'll review your oral and general health to determine whether you're eligible, and if you're not at the moment, we'll start planning how you can become a good candidate!
Who Is a Good Candidate for Dental Implants?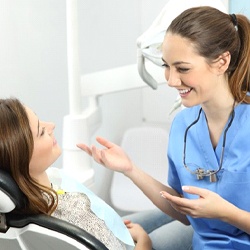 To find out whether this solution is the right way to bring back your smile, you'll first need to contact our office and schedule a consultation with your dental implant dentist in Minot. This appointment gives our team an opportunity to capture X-rays of your mouth and jaw and visually examine your gums and any teeth you have left. At the same time, we'll keep an eye out for a few key factors that could indicate whether you have a higher risk of dental implant failure. Generally, a good dental implant candidate:
Is free of medical conditions that could complicate the healing process.
Has no oral health problems (gum disease, tooth decay, etc.).
Has a jawbone strong enough to support the implants.
Is dedicated to maintaining good oral hygiene after getting implants.
If you don't meet these criteria at first, there's no need to worry. With the right preparatory procedures, you can often become eligible. For instance, if you've lost bone density in your jaw, then a bone grafting procedure can create a strong, healthy foundation for your new teeth to thrive.
After we've concluded that you're ready to move forward with the dental implant process, we can plan out your treatment according to the size of the gaps you need to fill.
Missing One Tooth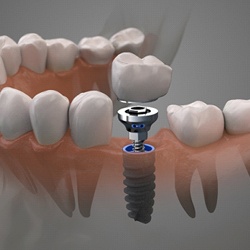 Replacing a single missing tooth requires just one titanium post to be placed directly into the jawbone. From there, the soft tissue and surrounding bone can integrate, forming a sturdy foundation for a dental crown to be placed on top. This crown will be made from natural-looking porcelain and carefully shaded to match the rest of your teeth.
The traditional method of replacing one missing tooth is with a dental bridge, which requires altering the teeth on either end of the empty space. Over time, these teeth become weaker and more sensitive as a result. Because a dental implant can support itself, we don't need to worry about this problem occurring.
Missing Multiple Teeth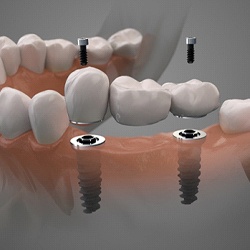 To replace multiple missing teeth in a row, a personalized dental bridge can be attached to a pair of implant posts, with each one being placed at an end of the gap. Not only is this option more cost-effective than placing an implant for each individual tooth, but it also can support itself without needing to wear down any of your remaining healthy teeth. If, on the other hand, you're missing several teeth that aren't consecutive, we may be able to place a partial denture onto a small number of specifically positioned implants along your jaw.
Missing All Teeth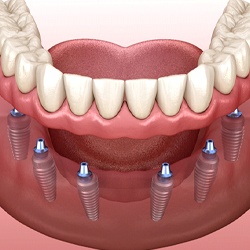 If you're missing an entire row of teeth, then four to eight implants are often enough to bring them all back with a full denture. Many of the common complaints of traditional dentures – slippage, discomfort, the inability to chew various foods – are solved by implant dentures. We can design your prosthetic to be either removable or fixed in place, depending on your preferences.
Understanding the Cost of Dental Implants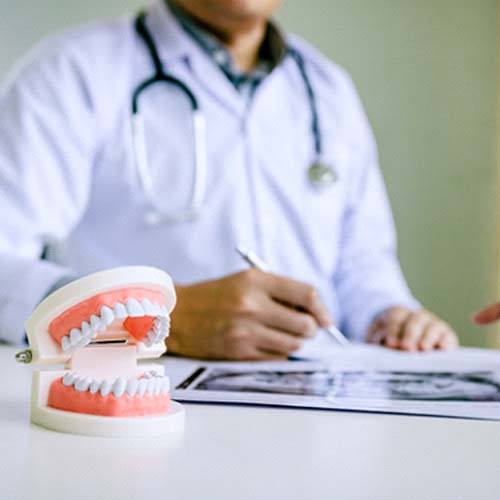 When creating your dental implant treatment plan, it's important to note that your costs will likely vary compared to other patients. Implants are highly customizable, which means the number of teeth you need to replace, the restorations used, and the preparatory services (i.e., bone grafts, gum disease therapy, etc.) you need to complete treatment can all influence the final price. If you're wondering about the cost of dental implants, trust that our team at Souris Valley Dental Group is ready to welcome your dental insurance as well as partner with flexible financing partner CareCredit and provide an in-house dental savings program to make your treatment more affordable.
Preliminary Treatments & Dental Implant Surgery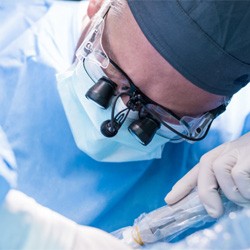 If you require any preliminary treatments before undergoing dental implant surgery, you can expect that these will be added to your overall estimate. These may include periodontal therapy, bone grafting, sinus lifts, or even tooth extraction. You'll also need to consider the actual procedure for placing your implants as part of the total price.
Because we are capable of performing the start-to-finish procedure in-house, you will not need to worry about paying a separate individual for this part of your treatment.
The Parts of Your Dental Implant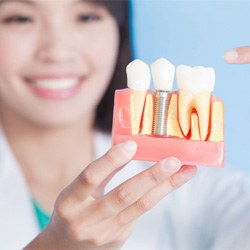 You may not realize it, but your dental implant consists of various parts. When formulating an estimate for your new smile, you can expect that we will consider the following:
The number of dental implant posts needed – Whether it is one or six that you need to have put into place, this will be factored in. Naturally, requiring only one implant will cost less than if you need five or six for an implant denture.
The materials used – Titanium and zirconia are each used to create dental implants, and each has its own price tag. Depending on the material used, you can expect that it will be part of the breakdown of costs.
The type of restoration needed – Implant dentures will cost more than an implant crown. However, when you compare the functionality of a restoration held in place by implant posts, you'll discover they are much more cost effective than traditional tooth replacements.
The brand – When meeting with your implant dentist, you will learn which brand of dental implants are used so that you can better understand why opting for a higher-quality prosthetic will lead to longer-lasting results.
How Dental Implants Can Save You Money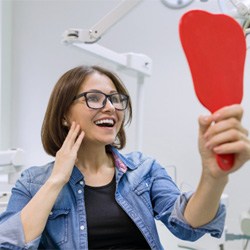 Dental implants are not only long-lasting, but they can actually help you save more money over the years. Traditional prosthetics are effective, but if you consider the amount of money you'll spend on denture adhesives, specialized products, and even treatment for various health conditions (i.e., diabetes) that are commonly linked to tooth loss, it can be an alarming reality.
Choosing dental implants will help to improve your oral and overall health while also keeping more money in your wallet so that you can spend it on what you really enjoy.
Does My Dental Insurance Cover Dental Implants?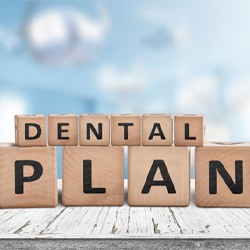 As you review your dental insurance plan, you'll find that most companies do not offer coverage for dental implant surgery. Many still find it to be an elective option, not medically necessary. However, you can inquire about saving on your custom restoration and even preliminary procedures that you might need. If you're unsure whether your insurance company will pay for these, you can call to check or let a member of our qualified team be of assistance.
Making Dental Implants Affordable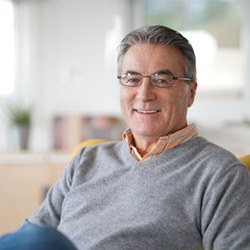 At Souris Valley Dental Group, we are pleased to also accept flexible financing plans through CareCredit, which make it easy to enroll in a low-interest or no-interest plan. With no surprise fees, you can feel more confident about moving forward with treatment knowing that you can pay it off over time instead of out of pocket, all upfront.
Also, we offer an in-house Souris Valley Perks Program that allows you to pay a small annual fee in return for a 15% discount on all available services. And you get to avoid the red tape that is common with a private dental insurance plan.
Dental Implant Failure & Salvage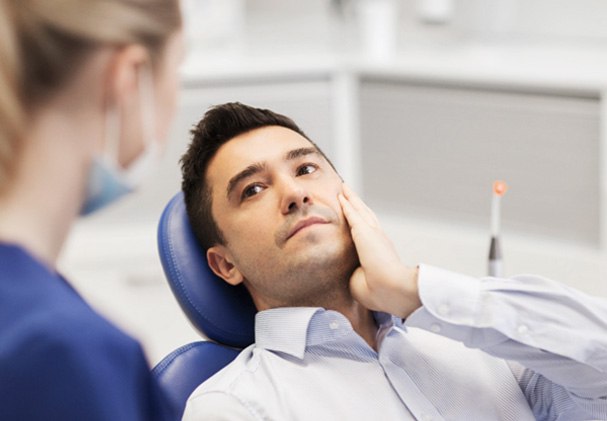 Even though dental implants are successful in more than 95% of cases, they can occasionally fail. It's often due to an infection, but it can also be the result of trauma, failed osseointegration, and other circumstances. Call us immediately if your implants feel loose or if you're experiencing unusual oral pain. Our team members will quickly identify the underlying issue and take every step possible to preserve your dental implants while also protecting the rest of your smile.
Dental Implants FAQs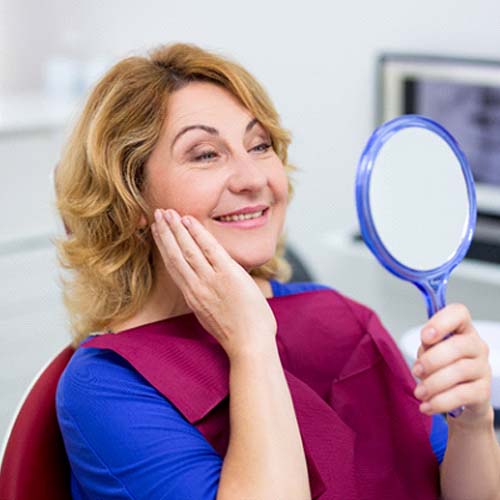 Since dental implants in Minot can replace missing teeth both above and below the gumline, they can bring back your smile to the fullest. This unique tooth replacement option is very different than traditional ones like dentures and dental bridges, so it's natural to want to learn more about it. For your convenience, we've gathered some common dental implant questions below. If you don't see the information you're looking for, feel free to give us a call and we'll be happy to help!
Am I a Good Candidate for Dental Implants?
No matter how many teeth you're missing, dental implants can help you regain a complete set of pearly whites! Typically, you'll need three things to be considered a good candidate:
Good overall health – Placing dental implants is a surgical procedure, so you need to be healthy enough to undergo minor surgery.
Great oral health – Issues like tooth decay, gum disease, and teeth grinding can cause your dental implant to fail, so they'll need to be treated first.
Adequate jawbone density – Dental implants form a foundation in the jawbone, so you'll need to have enough bone density to support them.
Even if you don't meet all these requirements, come visit us for a consultation anyway! We can create a plan with you to get your oral health on track and ready for your new smile.
How Long Does It Take to Get Dental Implants?
Rebuilding your smile with dental implants is a multistep process. Once the dental implant posts have been placed in your jawbone, they'll need time to heal before you can move on to the next step. Since factors like your oral health, dental hygiene, and number of dental implants will influence how long this will take, every patient's timeline will be unique. However, you can typically expect it to take anywhere from four to six months. While this is certainly a long time to wait when compared to dentures or dental bridges, their unmatched comfort, functionality, and longevity are well worth the wait!
How Do You Take Care of Dental Implants?
Dental implants are designed to look and act just like natural teeth, and they can be cared for just as easily as well! They don't require any special cleaning solutions, tablets, or brushes, and you won't have to change your normal dental routine. Simply practice great oral hygiene habits to keep your new smile strong and sparkling, like:
Brush your teeth for two minutes twice a day.
Floss daily and rinse with mouthwash regularly.
Refrain from using your teeth as tools to open packages or bottles.
Quit bad habits like smoking or chewing tobacco.
Visit your dentist for checkups and cleanings twice a year.
Are Dental Implants Worth the Cost?
Many patients are hesitant to invest in dental implants because of their price tag. Initially, dental implants tend to cost more than dentures or dental bridges. However, we recommend dental implants to nearly all of our patients because we truly believe they are a worthwhile investment. You simply can't put a price on regaining a comfortable, confident smile. Additionally, dental implants don't need to be repaired, adjusted, or replaced like dentures or dental bridges, so they could even end up saving you money in the long run!
Ready to fill those gaps in your smile? Give your Minot dentist a call today and schedule your consultation to see if this life-changing treatment is right for you.