Dental Implants – Minot, ND
Bring Back Your Smile to the Fullest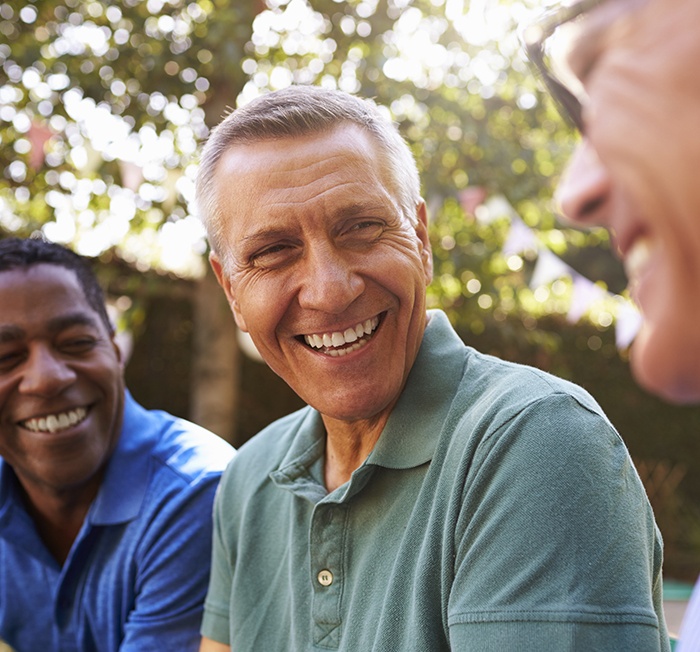 If you have not heard of dental implants before, you just might be surprised by how effective they are at replacing teeth in almost every single way. No longer are you forced to struggle with an ill-fitting denture or consistently replace complex restorations. Dental implants provide the longevity, esthetics, and functionality you expect from a beautiful tooth. By partnering with the best that Minot has to offer, you can expect a replacement tooth that withstands the test of time, and your future meals! Call our dental office today to schedule a consultation to discuss replacing missing teeth with dental implants in Minot, ND!
Why Choose Souris Valley Dental Group for Dental Implants?
Natural-Looking Implant-
Retained Restorations
Accommodating Dentists
That Treat You Like Family
Partners with Top Implant
Experts in the Area
What is a Dental Implant?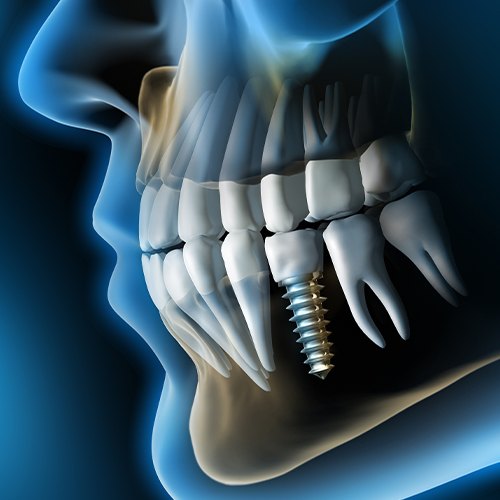 Dental implants are meant to be both replacement teeth and replacement roots. This is because when teeth are extracted, the root portion of the tooth comes out with it as well, leaving the open gap in your smile vulnerable to shifting teeth. Your foundational bone tissue can also begin to break down because it lacks the stimulation the tooth provides. Dental implants work to address both of these issues simultaneously.
Benefits of Dental Implants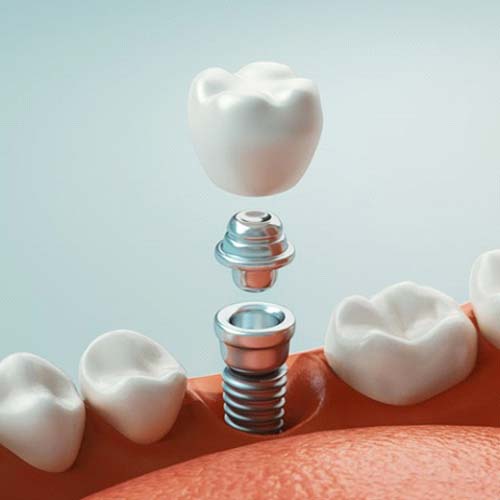 There are many ways that dental implants can benefit you in the short-term and long-term. For one, they make it easy to keep eating your favorite foods, including ones that are tough, chewy, crunchy or hard in nature. Thanks to the integration that occurs with your bone and soft tissue, your jaw and facial tissue can get the stimulation it needs to remain strong and elastic, respectively. You can also expect your implants to last for several decades with ease and look like a natural part of your smile.
Indications of Dental Implants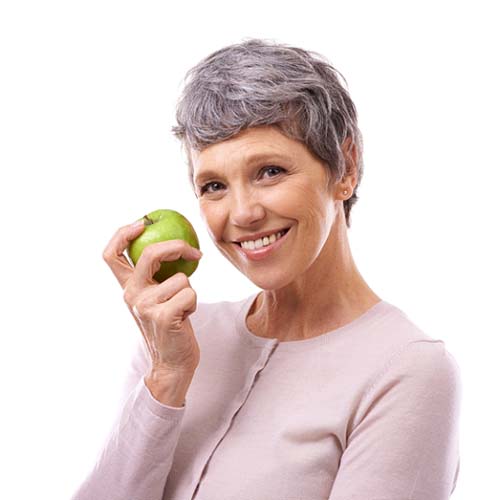 Even if you have many missing teeth to replace, dental implants can get the job done. They are so versatile that they can replace single teeth or all the teeth in your arch, replacing the need for a traditional denture.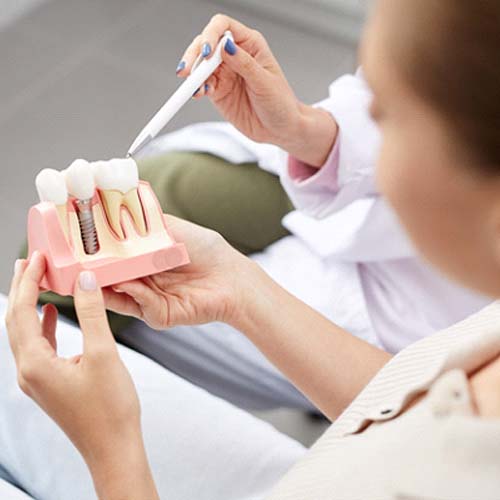 Missing One Tooth
Replacing single teeth requires just a single titanium post placed directly into the jawbone. From there, the soft tissue and surrounding bone can integrate, creating a solid foundation for a restoration to be placed on top. Every restoration used to cover your implants is made from natural-looking porcelain.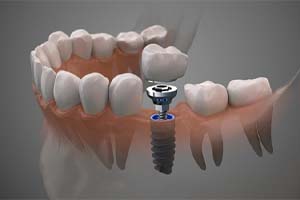 Missing Multiple Teeth
To replace multiple missing teeth, a pair of dental implants can be placed to hold a dedicated custom-made bridge. This bridge does not need to rely on nearby teeth to stay in place, which means that you can maintain as much of your natural enamel as possible.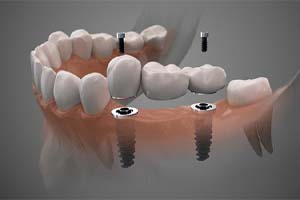 Missing All of Your Teeth
When you have been relying on a denture for a long time, you may find it hard to believe that we can replace it with one that attaches to dental implants. However, that's exactly what we do! By placing four to six implants throughout the mouth, we can effectively restore your top arch, bottom arch, or both if needed.
Partners with the Best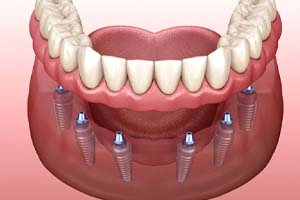 To complete the surgical portion of your dental implant procedure, we partner with some of Minot's finest implant specialists and oral surgeons. This collaborative effort ensures the most successful outcome and the best personalized care possible. When you first arrive, we can capture both digital X-rays and cone beam scans to confirm your eligibility. From there, our specialists can perform surgery that is predictable and comfortable in nature. Once the implants have fully healed, you'll come back to our dental office to have your customized restorations placed.
Cost of Treating Dental Implants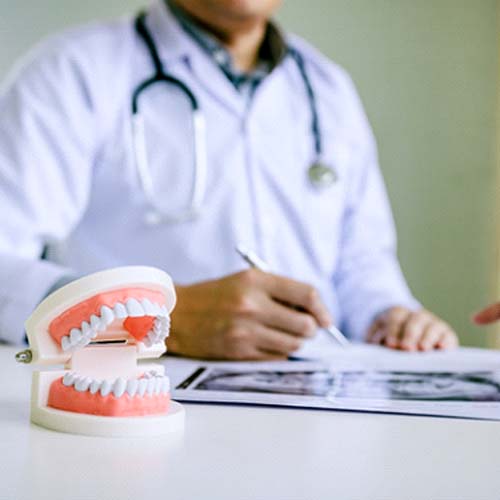 When creating your dental implant treatment plan, it's important to note that your costs will likely vary compared to other patients. Implants are highly customizable, which means the number of teeth you need to replace, the restorations used, and the preparatory services (i.e. bone grafts, gum therapy, etc.) you need to complete treatment can all influence costs. With that said, dental implants are designed to last for decades at a time, look incredibly natural, and feel comfortable when chewing food. This makes their high upfront investment more cost-effective than other methods.
Dental Implant FAQs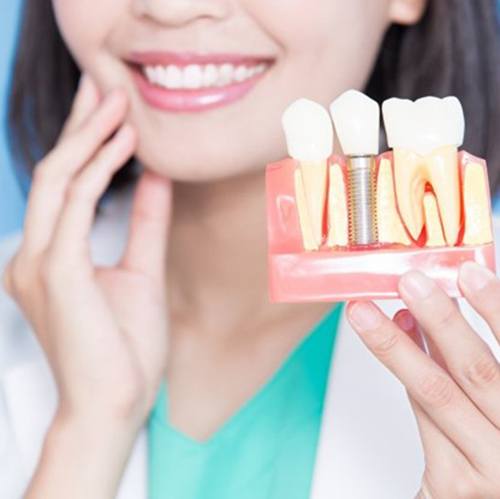 Since dental implants in Minot can replace missing teeth both above and below the gumline, they can bring back your smile to the fullest. This unique tooth replacement option is very different than traditional options like denture and dental bridges, so it's natural to want to learn more about it! For your convenience, we've gathered some common dental implant questions below. If you don't see the information you're looking for, feel free to give us a call and we'll be happy to help!
Am I A Good Candidate for Dental Implants?
No matter how many teeth you're missing, dental implants can help you regain a complete set of pearly whites! Typically, you'll need three things to be considered a good candidate:
Good overall health: Placing dental implants is a surgical procedure, so you need to be healthy enough to undergo minor surgery.
Great oral health: Issues like tooth decay, gum disease, and teeth grinding can cause your dental implant to fail, so they'll need to be treated first.
Adequate jawbone density: Dental implants form a foundation in the jawbone, so you'll need to have enough bone density to support them.
Even if you don't meet all these requirements, come visit us for a consultation anyways! We can create a plan with you to get your oral health on track and ready for your new smile.
How Long Does It Take to Get Dental Implants?
Rebuilding your smile with dental implants is a multistep process. Once the dental implant posts have been placed in your jawbone, they'll need time to heal before you can move on to the next step. Since factors like your oral health, dental hygiene, and number of dental implants will influence how long this will take, every patient's timeline will be unique. However, you can typically expect it to take anywhere from four to six months. While this is certainly a long time to wait when compared to dentures or dental bridges, their unmatched comfort, functionality, and longevity are well worth the wait!
How Are Dental Implants Cared for?
Dental implants are designed to look and act just like natural teeth, and they can be cared for just as easily as well! They don't require any special cleaning solutions, tablets, or brushes and you won't have to change your normal dental routine. Simply practice great oral hygiene habits to keep your new smile strong and sparkling, like:
Brush your teeth for two minutes twice a day.
Floss daily and rinse with mouthwash regularly.
Refrain from using your teeth as tools to open packages or bottles.
Quit bad habits like smoking or chewing tobacco.
Visit your dentist for checkups and cleanings twice a year.
Are Dental Implants Worth the Cost?
Many patients are hesitant to invest in dental implants because of their price tag. Initially, dental implants tend to cost more than dentures or dental bridges. However, we recommend dental implants to nearly all of our patients because we truly believe they are a worthwhile investment. You simply can't put a price on regaining a comfortable, confident smile. Additionally, dental implants don't need to be repaired, adjusted, or replaced like dentures or dental bridges, so they could even end up saving you money in the long run!
Ready to fill those gaps in your smile? Give your Minot dentist a call today and schedule your consultation to see if this life-changing treatment is right for you.