July 14, 2022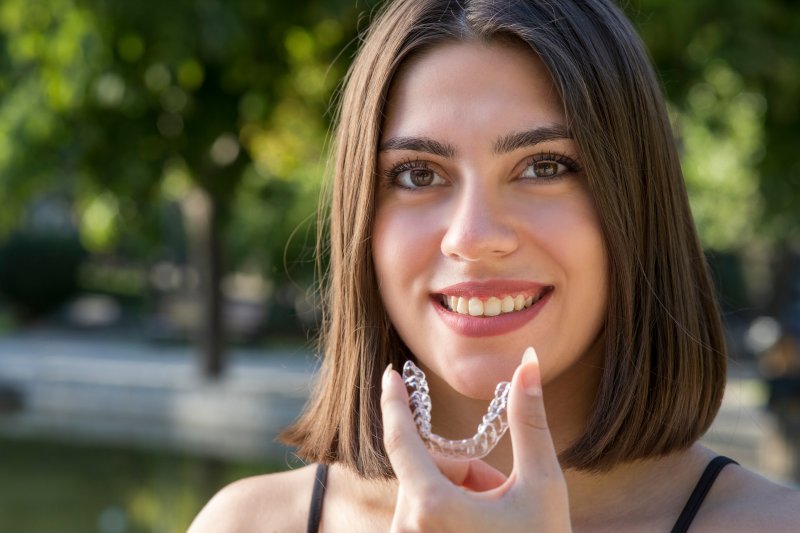 It's pretty simple to keep up with aligning trays at home. If you're a working adult, you'll just make them one of your daily responsibilities. Kids, meanwhile, have parents who can remind them about their aligners. However, it can get a bit tricker when you're traveling with Invisalign. Whether they're for business, vacation, or something else, travel outings can potentially throw off your treatment plan. To prevent that from happening during your next trip, consider following these tips from your local dentist.
Visit Your Dentist Before You Leave
First of all, visit your dentist for a pre-travel checkup before heading out. They can see how your treatment is doing to ensure things stay on track while you're away. That could mean having you switch to a new set of trays early, so straightening progress isn't delayed. If you're going on an extended trip, your dentist could also make necessary changes to upcoming appointments.
Whatever the case, telling your local practice about your travel plans lets them prepare accordingly.
Remember the 22-Hour/Day Rule
When traveling, it's very easy to break from everyday routines and habits. Still, that shouldn't apply to your Invisalign trays. It's mandatory to wear them twenty-two hours a day, no matter where you are. Otherwise, your teeth will be at risk of backsliding into their old, crooked positions.
To help you remember, try setting a timer for your eating and drinking. It'll remind you to re-insert your aligners and maintain the progress you've made.
Bring Extra Aligners
You're more likely to lose or misplace your aligning trays when you're out and about. That especially applies to travels, which can have you dashing from one place to the next.
Just in case you do lose an aligner, make sure to pack extra ones. That way, you'll have backup pairs ready to go when needed.
Pack Your Dental Essentials
It's important to have clean teeth while doing Invisalign. Pearly whites that are straight but dirty can look as bad as a crooked smile. Plus, leftover food often becomes visible when wearing aligners.
Therefore, pack a dental travel kit along with your other belongings. Essential items for it include:
A Toothbrush – As always, you'll need to brush your teeth twice daily.
Floss – Cleaning between your teeth daily is a travel necessity.
Mouthwash – Mouth rinses are excellent for clearing debris your toothbrush can't reach.
Being away from home shouldn't mean giving up on the teeth-straightening process. Talk to your local dentist if you have further questions about traveling with your Invisalign trays.
About the Practice
Souris Valley Dental Group has been based in Minot, MD, for over forty years. Their team of top-tier dentists are well-known for giving patients superior dental care. To that end, the practice offers preventive, cosmetic, and restorative dentistry, not to mention emergency services. It's also a certified Invisalign provider for teens and adults. For more information or to book an appointment, you can reach them at their website or by phone at (701)-852-5595.
Comments Off

on Crucial Tips for Traveling with Invisalign
No Comments
No comments yet.
RSS feed for comments on this post.
Sorry, the comment form is closed at this time.