March 14, 2022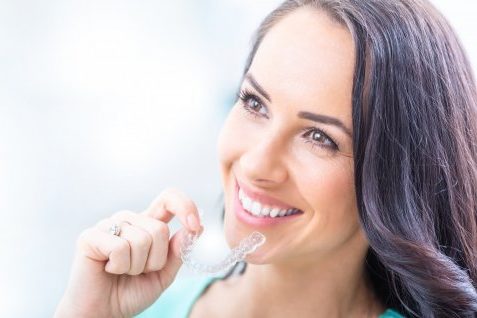 Do you have gaps between your pearly whites, misaligned teeth, or bite issues? If so, you may be interested in getting Invisalign to correct your smile. These clear aligners are often preferred over traditional braces due to their more aesthetically appealing appearance and ability to fix smile problems in a shorter period of time. If you're thinking about getting clear aligners to improve your smile, read on to learn about five things you may not have known about Invisalign.
#1: You Have to Wear Invisalign for 20-22 Hours a Day
Invisalign works by putting a small but consistent amount of pressure on your teeth. Over time, this moves them into a more desirable position. In order for treatment to be as effective as possible, you will need to wear each set of clear aligners for 20 to 22 hours each day. If you don't, this may cause complications or delays.
#2: Invisalign May Cause You to Lose Weight
Since Invisalign trays have to be worn so often, it's inconvenient to take them out every time you want a snack. For this reason, you will likely find that you eat less during the treatment. This is often referred to as the "Invisalign diet" and may cause you to lose weight.
#3: You Need to Brush Your Teeth More Often
As part of a good oral hygiene routine, you should brush your teeth twice per day and floss every night. During Invisalign treatment, you'll need to get used to cleaning your teeth more often. You will have to brush and floss after each meal to remove food particles and bacteria from your smile so they don't become trapped between your teeth and aligners.
#4: Your Aligners Can Get Stained
One of the most appealing things about Invisalign as opposed to traditional braces is that the aligner trays are clear. But, if you don't take good care of them, they can become stained and make your smile look dull. Make sure to soak them in a cleaning solution made for dentures, retainers, or one specifically made for Invisalign at least once per day to keep them looking their best and smelling fresh.
#5: You'll Need to Wear a Retainer Afterward
Once you've completed your Invisalign treatment, you may think that's the last thing you'll ever have to do to maintain your new smile. But, after you're done with your last set of aligners, your dentist will have you fitted for a retainer. Though the amount of time you have to wear this each day may vary, you may need to wear it as often as you wore your aligners until your dentist says it's okay to start cutting back.
As you can see, there are several things about Invisalign treatment that you will have to get used to. Make sure to take good care of your aligners and wear them as long as your dentist recommends so a more beautiful smile can be yours in no time!
About the Practice
If you're thinking about getting clear aligners to improve your smile, the talented Minot team at Souris Valley Dental Group is here to help. Led by five talented dentists, they offer Invisalign treatment to correct issues with your smile so you can feel more confident in the look and function of your pearly whites. Visit Souris Valley Dental Group's website or call their office at (701) 852-5595 for more information on Invisalign or to schedule a consultation.
Comments Off

on 5 Things You Should Know Before Getting Invisalign
No Comments
No comments yet.
RSS feed for comments on this post.
Sorry, the comment form is closed at this time.