June 2, 2021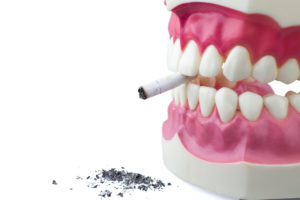 With more than 5 million dental implants placed each year, implant treatment is one of the most popular – and reliable – ways to replace missing teeth. However, if you are a smoker, getting dental implants may not be as viable an option to rebuild your smile. These days, many of the negative health effects of cigarettes are common knowledge. Less well known, though, is the fact that smoking can also harm your oral health and even interfere with implant treatment. If you are a habitual smoker and considering dental implants in Minot, be sure to read the information below.
How Implants Work
To understand how smoking impacts dental implants, it's important to first know how implant treatment works. A dental implant is a small titanium post that is surgically inserted into the jawbone under the gums. Over the course of several months, the implant fuses with the surrounding bone through a natural process called "osseointegration". Once the healing process is complete, the patient returns to their dentist to have a new crown, bridge, or denture attached.  
By replacing the missing tooth root structure, dental implants are able to provide superior support for artificial teeth. Dental implants are the only restorative solution that replaces missing teeth from the roots up.
How Smoking Impacts Dental Implants
Smoking increases the risk of implant failure in several ways. First, the nicotine in tobacco constricts blood vessels, which slows down the healing process. The longer it takes for an implant to integrate with the jawbone, the higher the chances of implant failure.
In addition, smoking has also been found to cause bone loss. If a patient's jaw has deteriorated from years of smoking, it may not be strong enough to support a dental implant.
Cigarette use also slows down the production of saliva, which helps keep the mouth clean. Without saliva flow, bacteria and plaque can collect in the mouth and cause cavities, gum disease, and other oral infections. If left untreated, gum disease will eventually attack the bone structure that supports teeth and implants.
Finally, consider these statistics: according to research, only about 1.4% of dental implants fail in non-smokers. In contrast, nearly 16% of smokers experience dental implant failure.
Am I a Candidate for Dental Implants in Minot?
Smokers are not automatically disqualified from getting dental implants. However, given the higher risk of complications, many dentists strongly suggest that smokers kick the habit before undergoing implant treatment. Not only will quitting improve your chances of implant success, but it will also boost your overall and oral health. If quitting tobacco is not a realistic option for you, at least try to stop smoking for one week before treatment and at least two weeks after.
The best way to confirm if you're a good candidate for dental implants is to schedule an initial consultation with your dentist in Minot. They will conduct a thorough examination of your teeth and gums, discuss your personal smile goals, and create a custom treatment plan.
About the Practice
The expert team at Souris Valley Dental Group has helped countless patients rebuild their smiles with dental implants. They provide individualized care and partner with some of Minot's finest oral surgeons to ensure successful implant placement. To learn more about how smoking can impact dental implants, visit the Souris Valley Dental Group website or call 701-852-5595.
Comments Off

on Can I Get Dental Implants If I Smoke?
No Comments
No comments yet.
RSS feed for comments on this post.
Sorry, the comment form is closed at this time.