March 1, 2021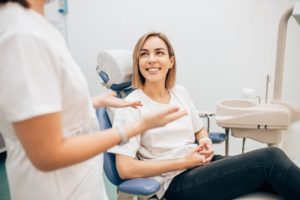 Like many people, you're juggling a hectic schedule and a host of responsibilities. Still, you understand the importance of carving out the necessary time for your family to receive proper dental care. How can everyone's dental needs be met? As you continue reading, discover 5 benefits of working with the right family dentist in Minot!
Benefit #1 – Simplified Dental Care
When it comes to your family's dental care, simple is best. No matter what their age is, each member of your tribe will receive consistent care when you're working with the same practice. Furthermore, you won't have to worry about scheduling appointments at different locations all over town, which can be a hassle. As an added bonus, the younger members of your family will feel more comfortable about receiving dental care from the same friendly faces.
Benefit #2 – Wide-Ranging Care
Most family dentists provide many different services. This is because they anticipate treating patients from different backgrounds who have varied needs. As an example of the broad spectrum of care offered, a family dentist can provide the younger family members with fluoride treatments and the older members with tooth-replacement options.
Benefit #3 – Strong Personal Relationships
Once you find a dentist who can meet your family's needs, it should be the start of a long-term relationship. That leads to building trust, which is so valuable to establish. It affords each member of your family a greater sense of security, something that is especially important for children. The positive experiences they have early in life will contribute to productive dental habits in the future.
Benefit #4 – Dental History Tracking
Working with a family dentist means that everyone's dental care records will be centralized. Therefore, if an issue arises, the dentist won't have to spend time trying to track down important details. At everyone's initial visit, X-ray photos will be taken to aid in building a baseline. The dentist will be able to refer to the photos and any other information gathered to ensure that each member of your family receives the most competent and effective care possible.
Benefit #5 – A Healthy Example for Your Children
As all parents know, children are like sponges – they metaphorically soak up everything around them. Subconsciously, their little minds will be recording every visit – every interaction – every experience. Each data point helps to shape their dental care habits.
Once you've conducted your research to find that special family dentist near you, take the next step of scheduling your entire family for a visit. Therefore, everyone can experience the absolute best in dental health!
About the Author
Dr. Mark Hildahl is a graduate of the University of Minnesota School of Dentistry. For over 40 years, he has provided superb dental care, never wavering in his commitment to excellence. To stay abreast of the latest changes in dentistry and to be able to provide comprehensive care, Dr. Hildahl has received postgraduate training from such organizations as the Spear Center for Dental Education, the Las Vegas Institute, the LD Pankey Institute and others. He treats patients of all ages at Souris Valley Dental Group, and he can be reached for more information through his website.
Comments Off

on The Top 5 Benefits of Choosing the Right Family Dentist
No Comments
No comments yet.
RSS feed for comments on this post.
Sorry, the comment form is closed at this time.