January 5, 2021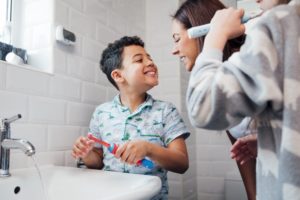 It's a new year, which means there's no better time to implement healthy habits into your daily life to make small changes that can improve your overall wellbeing. Although taking care of your smile may not seem like it offers astounding benefits to your physical health, it does! By placing more effort into your oral hygiene routine for your new year's resolutions, you can make 2021 even better by saving money, preserving your smile, and boosting your confidence. Read on to learn some oral health resolutions to keep your smile in tip-top shape.
Schedule Your Routine Checkups & Cleanings
Even if you're diligent about brushing and flossing your teeth every day at home, it's still important to visit your dentist in Minot for semi-annual checkups and cleanings. The best part about these appointments is that they're typically 100 percent covered by dental insurance plans! Your dentist and hygienist will conduct a thorough examination of your teeth and gums to make sure that no oral health problems are lingering. They'll also conduct an oral cancer screening to make sure that you don't have any red or white rough patches in your mouth. Finally, they'll remove all plaque and tartar from the surface of your teeth as far down as the gumline, keeping cavities from forming until your next appointment.
Commit to Daily Flossing
Although it may not seem like a necessity because you already brush your teeth, flossing is a crucial step in maintaining healthy gums. Food debris and plaque can become trapped between your teeth, attracting a colony of harmful oral bacteria that can immediate toxins that make your gums inflamed and red. By flossing at least once every day, you can keep your gums and teeth healthy and enjoy your smile for a lifetime.
Cut Back on Processed Foods & Sugar
Harmful oral bacteria love to feast on carbohydrates and sugars, which are most commonly found in processed foods and snacks. After they consume them, they release waste in the form of enamel-eroding acid that can increase your risk of developing cavities. By brushing, flossing, and maintaining a well-balanced diet, you can avoid common oral issues.
Kick Any Bad Oral Habits
Bad oral habits like nail-biting and tobacco use are known to increase your risk of not only experiencing dental emergencies, but also developing serious conditions, like oral cancer. This year, make an effort to limit your use of tobacco and avoid biting your nails. While some of these habits can be hard to kick, just remember that slow and steady wins the race!
By keeping up with these new year's resolutions in 2021, you can gradually improve not only your oral health, but also your overall wellbeing. Making attainable goals to meet, like flossing every day and starting the journey towards quitting bad oral habits like smoking, can help you enjoy your smile and a great quality of life.
About the Practice
Our team at Souris Valley Dental Group is dedicated to improving the overall wellbeing of patients in the Minot area by providing exceptional, thorough, and high-quality preventive dental care and education. We provide comprehensive dental care for the entire family, including children, teens, adults, and seniors, and we love building lasting bonds with our patients so we can continue to optimize their oral and overall health. For questions or to schedule your first checkup and cleaning of 2021, visit our website or call 701-852-5595.
Comments Off

on This New Year, Resolve to Improve Your Oral Health
No Comments
No comments yet.
RSS feed for comments on this post.
Sorry, the comment form is closed at this time.